ABOUT THE PRODUCT
Polymak grinding discs are renowned for maximum stock removal in a short the span of time. Polymak grinding wheels are used in all major surface grinding applications, as well as for the edge beveling and burr removal. Polymak offers professional advice in selecting the right grinding disc for your applications and also trials at your site. Our technical advisors would be very happy to offer any technical or help when you have a specific problem.
PRACTICAL TIPS
This thumb rule applies to grinding discs: the harder the material, the softer the bond of the grinding disc. In addition, the application plays a very decisive role. A hard bond is more suitable while grinding corners and burrs as they have sharp edges and remove them grit out of the bond. While working on surfaces a soft wheel would be suitable.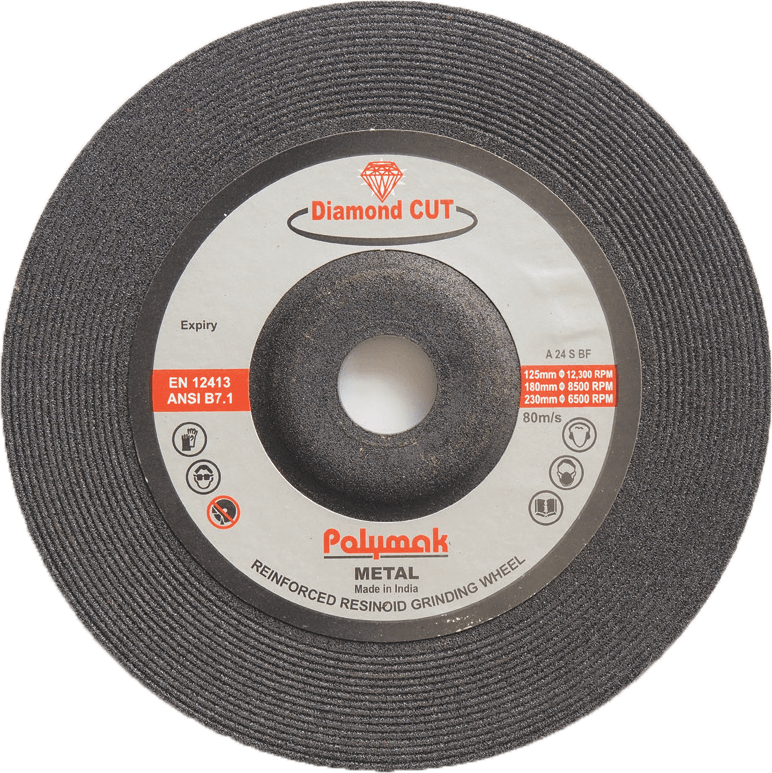 We have the following sizes listed below in Aloxite, WA,
Silicon carbide and Zirconia Abrasives.
| S.NO | DEPRESSED CENTRE WHEELS |
| --- | --- |
| 1 | 100mm x 4mm x 16mm |
| 2 | 100mm x 5mm x 16mm |
| 3 | 100mm x 6mm x 16mm |
| 4 | 115mm x 6mm x 16mm |
| 5 | 125mm x 6mm x 22.23mm |
| 6 | 125mm x 7mm x22.23mm |
| 7 | 180mm x 5mm x22.23mm |
| 8 | 180mm x 6mm x22.23mm |
| 9 | 180mm x 6.5mm x22.23mm |
| 10 | 180mm x 7mm x 22.23mm |
| 11 | 230mm x 7mm x 22.23mm |